Kenneth Jackson Lynch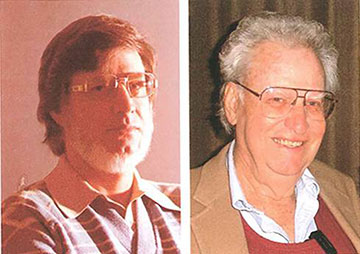 By: Charlie Duff, retired Professor of Math at Sacramento City College
The rumor is that Ken's last words were, "Well, at least I won't have to clean my house."
Ken Lynch, a popular and successful speech teacher and debate coach at Sacramento City College from 1969 to 1993 died at Kaiser Hospital in Sacramento on October 20, 2013; he was 81 years old. The cause of death was ventricular fibrillation arrest.
Ken was born in Huntington Park, CA, June 16, 1932. He was raised in Elsinore, CA, where he attended local schools and graduated with honors from Elsinore High School in 1950. At Elsinore High School he was a two-sport varsity athlete and served as student body president. Later Ken earned his bachelor's degree at University of California and his Master's Degree from Whittier College.
Ken enlisted in the army in 1951 at age 19. He knew war from up close, serving with distinction in Korea and earning a Combat Infantryman's Badge, a Bronze Star and a Purple Heart.
Ken began his teaching career at Ramona H.S. in Riverside, CA. He also taught briefly at Elsinore Military Academy and Whittier College. At Ramona H.S. and Whittier College his debate teams were outstanding. Whether in high school or college, his teams never failed to produce at least one national debate champion.
He joined the faculty at Sacramento City College in 1969, and once again Ken's debate program gained national recognition. Ken served as President of Phi Rho Pi, a national college forensics organization. The Lynch-Grossman Award, named in part after Ken, is still presented to the outstanding student in policy debate at the national tournament. At SCC Ken coached many outstanding students; among them is current California Supreme Court Chief Justice Tani Cantil-Sakauye.
Ken never lost his interest in athletics and was always close to the Athletic Department at SCC. He enjoyed serving as either a scorekeeper or P.A. announcer for SCC athletic events. Ken played tennis and loved women's softball.  He sponsored the Sacramento City College summer softball team for many years. In 1994 his team, named the "Lynch Mob," won the American Softball Association's National Championship. Ken traveled with the Lynch Mob and sometimes with the SCC Panther Softball Team. Each year for the past ten years Ken attended the College Softball World Series in Oklahoma City.
Although Ken was never a hard-core trade unionist, he served on the Los Rios College Federation of Teachers' Executive Board for several years and was its Grievance Chairperson. He was good at that job, too.
Ken maintained strong relationships and close contact with many former students over the years. Those who knew Ken will remember him as a compassionate man and a loyal and generous friend.
In his retirement Ken enjoyed golf, visiting friends and occasional trips to Reno and Las Vegas.
His niece Terry Marshall of Washington, Utah, survives him.
There are no services planned at this time.
Ken lived alone and remained a sports fan and a terrible housekeeper until the day he died.